VideoPad Video Editor Software Review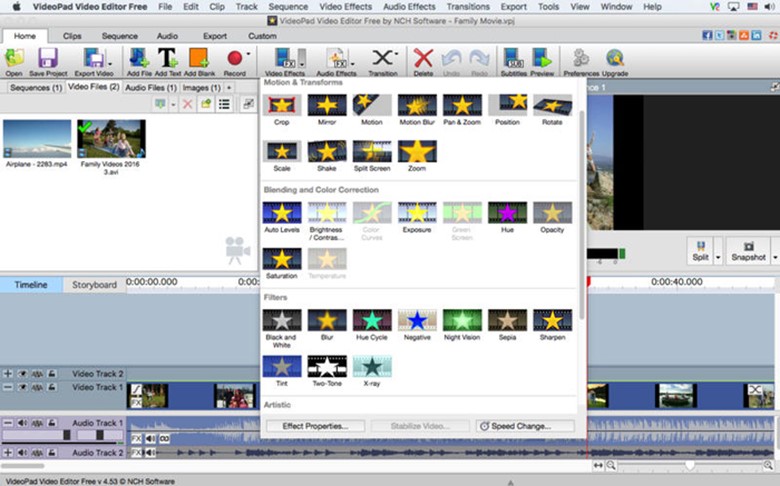 Video editing software has come a long way, and the complexity associated with many editors is enough to scare away would-be editors. Statistics show that the hefty price tags attached to some of the video editors are the leading cause of the low penetration rates. However, there is no need to fear; you can choose from a wide range of free tools that come equipped with professional video editing features that an armature can learn to use in a few hours.
Whether you are looking for software to help you improve the quality of your raw home videos taken with your smartphone; edit out unwanted parts of a downloaded video for a work project. Maybe just to convert old videos to the latest formats compatible with modern devices, then your search ends here with the VideoPad video editor tool.
What is VideoPad?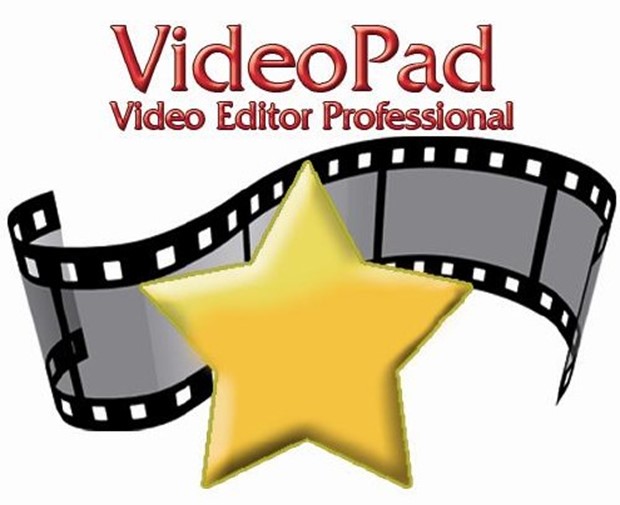 This is an armature friendly video editing software that critics are saying is the next best thing after the collapse of Windows Movie Maker. There are countless of testimonials both on social media and other sites where thousands of people claim to have learned how to edit their videos in a few minutes. It has a well-deigned interface and toolkit to help you get the desired results out of your video editing project.
You can post the results directly on YouTube, or your social media sites with an optimized format for any playback device, mobile or otherwise. However, it will not apply a watermark on your projects, when you export them from the software, but there are hundreds of ways you can ensure you retain the rights to your project.
In this guide, we review VideoPad, one of the greatest video editing tools to ever hit the market in the modern age. Its sheer power makes it one of the best video editing software available for download today.
back to menu ↑
History
VideoPad is a video editing tool developed by NCH Software for the professional as well as the home market on December 16, 2008. It includes VirtualDub plug-ins that complements the software to make it one of the best. It is part of a suite that integrates with other tools by NCH Software such as MixPad, WavePad, and the PhotoPad.
back to menu ↑
Free Vs Paid VideoPad
When it comes to video editing software, you can kick out any expectations you have always had about freebies or paid for subscriptions. Most people love free software, and this makes most people think that premium has better editing options, which is not always the case. However, NHC Software gives you two options for downloading the amazing VideoPad.
It is licensed as trialware, and you can either get the free version or the pro version called the VideoPad Master Edition supports a broad range of plugins, compared to the free version that solely works with the default features.
Before you download either one, ensure that you familiarize yourself with different video editing technology. You will also require a great sense of visual awareness and timing, a variety of practical, creative skills, attention to detail, concentration and patience as well as basic IT skills.
Below are the things that make VideoPad the better option compared to its rivals in the market.
back to menu ↑
Design and Interface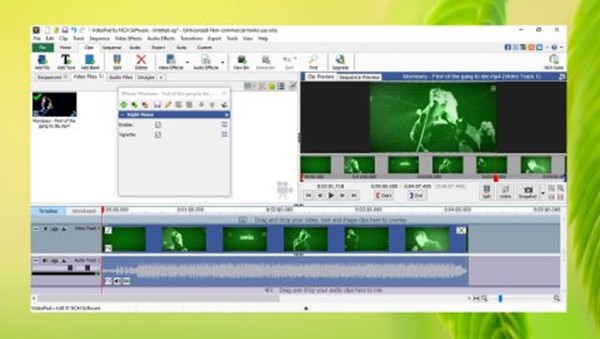 It has the all too familiar storyboard and timeline workflow common I almost all video editing tools in the market, which means you can view your progress linearly or through individual objects no matter the video clip size.
VideoPad makes use of two screens. The first is used for preliminary review of the selected video as well as audio clips while the second screen reviews the entire video track's storyboard. This is great especially for novice video editors because it allows them to learn the basic building blocks in storyboard mode then do the fine-tuning on the main video track.
The interface is easy enough for armatures as well as professionals and you can
Drop and drag video clips for easy editing of videos
Easy application of transitions, effects,
Edit and improve video clips audio track
The VideoPad Master Edition allows users to import an unlimited number of tracks to your editing project. This is designed to give you the kind of versatility you require to create quality projects upon completion.
back to menu ↑
Excellent User Experience
VideoPad has one of the best user experiences; this is coming from social media posts and video testimonials. Simply import your video clips, soundtracks, and images you wish to include in your project then simply drag and drop on the screen with the sideboard and start editing.
With the use of the VirtualDub plugins, NHC Software developers can successfully build on code that works to create innovative features to ensure world-class quality for all your resulting videos.
back to menu ↑
Features
The following are the exemplary features that make VideoPad the best video editing software in the world today.
Amazing Video Effects and Transitions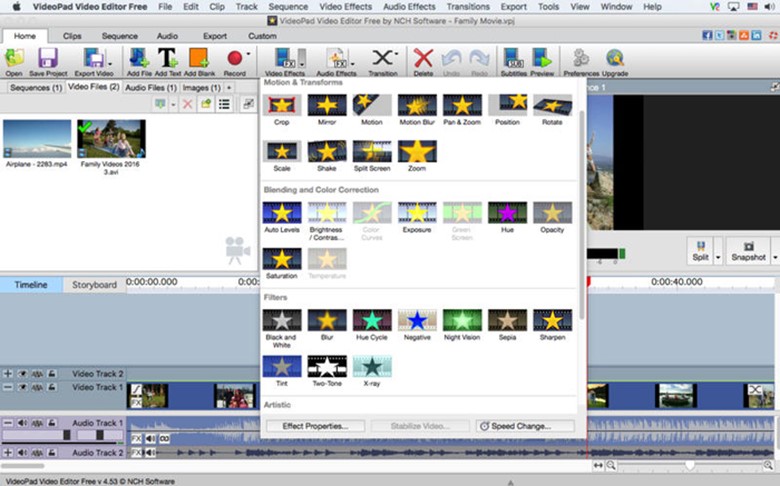 VideoPad packs an excellent selection of fantastic transitional effects that allow you to move between images and video clips with ease. This video editing software also has an impressive collection of filters to give various parts of your project a new look and feel. VideoPad allows you to
Choose from a broad range of video clip and image transitions
Add closed captions for the benefits of viewers for the hearing impaired and in any language
Add overlays, as well as effects to videos with 360 degrees
3D video editing
Do stereoscopic conversions of videos from 2D to 3D
Create visual effects templates for use on any project of your choice
Chroma-key green screen for authentic video production
Stabilize videos
Manually set the parameters to refine the brightness, color, and saturation of the video or a particular section especially if you are dealing with clips shot in different locations with varying lighting conditions
These effects are available in either of the versions you choose to download though you might get some features will not work with the free version. You get crossfade, fade to white or black, zoom, dissolve et al. on both versions for smooth transitions.
You can preview the various affects you are adding in real time with a single click, set the time parameters to dictate how long the transitional effects last as well as create a custom effect.
Awesome Audio Tools
Good video editing software ought to offer a broad range of editing options including an audio editing tool. VideoPad is a comprehensive video editing tool that will also edit the soundtrack in the video. This is one of the points that make it one of the best tools. The VideoPad video editing software allows you to manipulate the audio in your videos through
Importing and mixing of music tracks like a professional
With access to other tools on the NHC Software Suite, you can make custom soundtrack for your project
Adding sound effects to the audio from the free sound effects library included when you download the software
Easy recording of your narrations with the click of a button
Adjust volume
Employ effects such as distortion, echo, reverb, et al.
Despite having several audio editing features, it lacks a full-bodied mixer that is common with other video editing tools in the same purview.
Full Video Optimization
High-quality videos are the range in the present age, and VideoPad allows you to optimize your videos fully for SEO, social media et al. VideoPad packs effective video optimization features that allow you to
Speed up, slow down or reverse parts of the video track playback
Fine-tune the color of different parts of the video track
Create looped GIF videos
Use video stabilization to reduce camera shake
There is an increasing availability of plugins to add support and thousands of effects and tools to your VideoPad tool. Ensure to stay updated on the plugins that can take your video editing game to the next level.
Export
The best way to get complete fulfillment after finishing your project is to share the final video. It can be with workmates via email, family, and friends via mobile instant messaging apps, or on social media. VideoPad has the capability to
Burn to a CD, DVD, HD-DVD, or Blu-ray and use the regular disk player on your computer or use a CD/DVD player to watch it on your TV
Save to iPod, 3GP mobile phone, PSP, iPhone
Share online on your site, or directly to YouTube, Facebook, and many other sites
Edit 360 videos for virtual reality (VR) headsets and YouTube
Save the login information of various sites and upload your new video directly to Facebook, YouTube, or Flickr from VideoPad
With VideoPad you have the ability to export movies in different resolutions and most importantly 2K, full HD, and 4K ultra-high-resolution video footage including 720P, 1080P, 1440P, et al. In addition to the above features VideoPad also allows you to
Use motion tracking tools to recognize moving objects and apply the tools to the entire video track through which you eliminate the need to edit each frame individually and collectively enhance the objects
Create amazing stop-motion animations by bringing inanimate objects to life in real time. Simple import a sequence of images from your drive and create a captivating cartoon frame by frame. You can then export the animation as a looped animated GIF or simply directly share it on YouTube and social media
back to menu ↑
System Requirements
As a comprehensive video editing tool, VideoPad has ranked among the top tools in the world by being compatible on various operating systems. Upon downloading VideoPad, you can expect it to work well with
Mac OS X 10.5 and above
Windows XP, Vista, 7, 8, 8.1 and Windows 10
Devices running an Android operating system version 2.3.3 or higher
iPad/iPhone devices running iOS version 6.0 or higher
The wide range of devices you can use to make world class video production make adds on to the reason why VideoPad is among the best in the world.
Supported Video Input Formats
VideoPad supports a broad range of videos from various input devices including DV/HDV-based camcorders. With VideoPad, you can
Import videos in .avi, .mpeg, .divX, .wmv, .mp4, .Vob, RM, .Xvid, H.264, and other formats
Import photos and images in .gif, .png, .tif, .bmp, and more formats
Import Audio including .Mp3, .m4a, .wav, .flac, .aac, .dvf, .vox, and many other formats
back to menu ↑
Video Quality
VideoPad supports 16-bit, 24-bit, as well as 32-bit floating point samples and given that it can convert a wide range of track formats in real time, it can give high-quality results. It uses a high-quality dithering and resampling converter that samples the rates and formats for the video as well as the audio.
back to menu ↑
VideoPad User Support
The VideoPad online support is well documented, and they have one of the best customer care support systems for the user. Not only can you get access from their site http://www.nchsoftware.com/videopad/ you can also get online forums on social media as well as YouTube videos where novices and professionals alike share tips on how to get a better experience and better quality of the finished product.
back to menu ↑
Popularity
Though increased sharing of videos and benefits, VideoPad has become one of the most popular video editing software. Armatures and professionals alike have used the online community and forums to better understand the basics as well as new updates and plugins. It has risen to become the favorite software for videographers and TV program directors that need software that can execute their commands in a few clicks.
Awesome
VideoPad has the necessary features to make it worth the download or pay for the VideoPad Master edition, making it useful software for armatures and professionals. It is a composite video editor and it allows for a wide variety of activities including joining, trimming, converting, et al.
Sharing, Burning and Transferring
9.9
PROS
It is a cross-platform video editing software available for mobile devices running on iOS and Android operating systems, and computers running MAC, Windows, and Linux
It comes preloaded with a full scope of audio editing features
Has one of the best, flexible, and user-friendly interfaces of all video editors
It has a free version, and you can always upgrade to the paid version
Unlimited track support for complex projects
CONS
Does not apply watermark to finished projects
Lacks crucial features like a slide show creator, templates, et al.
Add your review
|
Read reviews and comments